My Christian Counseling Journey
I think sometimes in Christian circles, depending on the church, there is much more of a stereotype of going to counseling. And that was where I felt like I used to be. I had a lot of outside factors going on around me, and was growing more anxious because of that for the things that could happen in the future. This anxiousness, although helped by having a relationship with Jesus, still kept me from growing in confidence, how to deal with conflict, being assertive, and setting boundaries. My anxiousness compounded with the changes coming up in my life, expectations, rejection, and trying to be someone I was not; made me go into a heavy season that I know I did not like being in but knew that I had to get out of. 
The community of people that I had around me from church saw how I was struggling and encouraged me to go talk to a counselor to help me get better. This was the first time my eyes were opened to see that counseling is not opposite of my faith but a beneficial part of it. Before counseling I did not see the ways I have shaped these thoughts that about myself that aren't true, and turned that into control and anxiousness. When all God wants for us is to one know the truth about ourselves; that we are fearfully and wonderfully made, worth everything to Him, and more valuable than we could ever know. Secondly, we can only fulfill the purpose God has called us to through being healthy in every aspect of our lives: emotionally, physically, relationally, and spiritually. I believe to be truly healthy in every area you must be emotionally healthy, and God did not want us to rely on ourselves to get there, he wanted us to find a support system to encourage us in truth and grace for ourselves.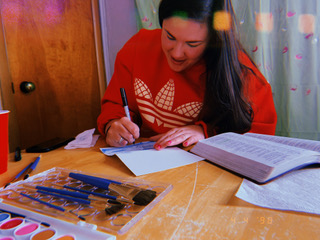 When I went searching for a counselor to help me work through this anxiousness in a biblical way, one of my friends told me about this counselor she went to and that helped me to go into counseling with more trust with the person I was going to talk to. It also helped me to be more open about going to counseling with the people around me.
In the short time that I have been going to see Melissa at Monarch Counseling, I have struggled with anxious thoughts less and have begun to reshape my thoughts about my past to better who I truly am, know what my dreams are, make healthy boundaries, and not let the past dictate my responses to what God has planned for my future.
I now would recommend counseling to every single person I know. It is not just something where you work through the big things (although it is that), but it is a safe place for you to understand your thoughts so that you can see who you truly are and the type of wonderful person you can become.